MILWAUKEE – Ousted Milwaukee Police Chief Alfonso Morales and the City of Milwaukee have agreed to mediation after nearly a year of litigation.
However, it will not be known exactly if or when the two parties reach a settlement. The two sides had a conference call scheduled for Wednesday, June 9 to review the mediation dates – agreeing to keep the dates of the conversations private.
The legal battle has taken many twists and turns.
"He never wanted to be removed from his post as chief," said Raymond Dall'Osto, lawyer for Morales.
The city is working in a crucial time frame after a judge ruled that Morales did not receive due process when he was demoted by the Milwaukee Fire and Police Board in 2020. In May, the town had 45 days to come to a settlement with Morales or bring him back as leader by the first week of July.
The reinstatement is said to be a move unwelcome by senior city officials who favor current MPD interim leader Jeffrey Norman to take the post on a permanent basis.
"I want to make sure we don't lose someone as talented and dedicated in Milwaukee as Jeff Norman," said Joint Council Chairman Cavalier Johnson.
But the process of hiring a chef has been on hold for several months due to the Morales dispute. Last week, FOX6 News learned that Norman was looking for work elsewhere. He is one of three candidates under consideration to become the next Wauwatosa Police Chief.
"I would desperately want to keep it. I don't want to lose it to a municipality that is literally across the street," Johnson said.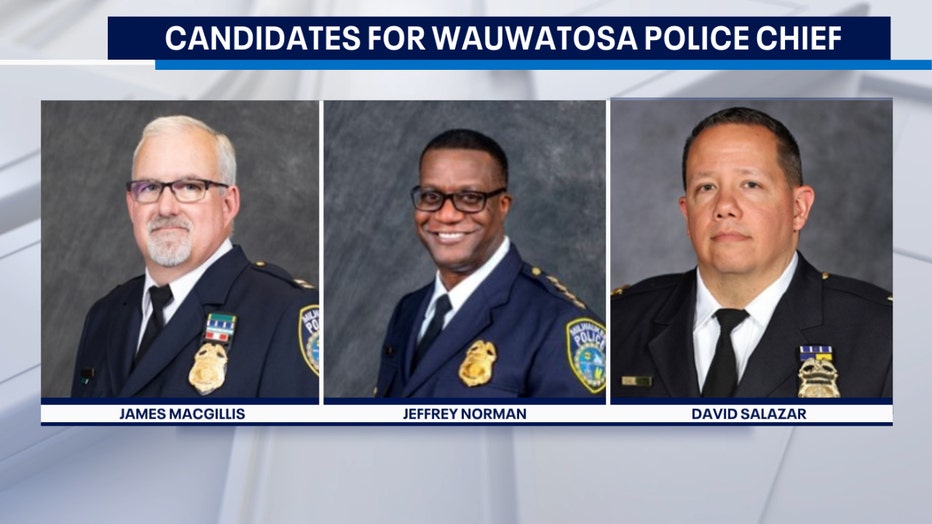 Wauwatosa Police Chief Finalists James MacGillis, Jeffrey Norman and David Salazar
The mayor of Wauwatosa said a hiring decision could be made there within the next two weeks, which means the city could come to an agreement with Morales and not yet appoint Norman to lead the MPD.
The decision to fire a police chief ultimately rests with the PFC. Efforts to reach the PFC for comment on Wednesday were unsuccessful.
FREE DOWNLOAD: Receive late-breaking alerts in the FOX6 News app for iOS or Android.
Source link