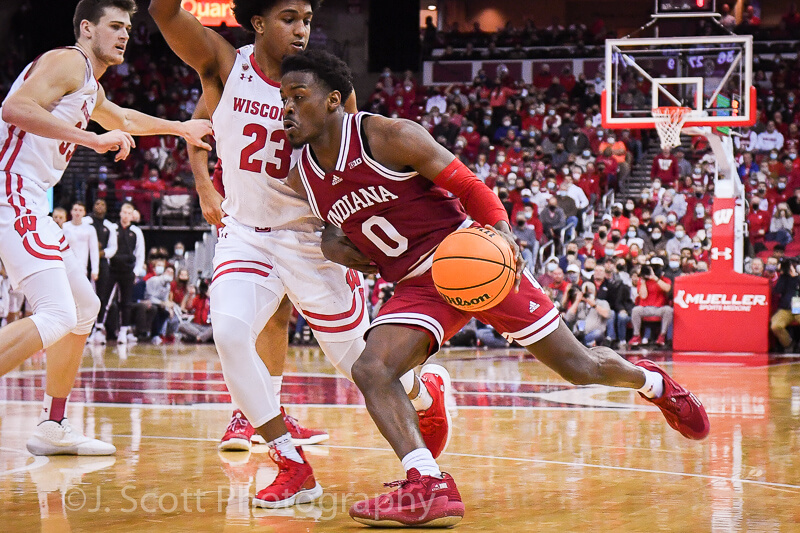 6-Banner Sunday is Inside the Hall's weekly newsletter in partnership with The Assembly Call. Over 8,000 Indiana fans receive the newsletter each week. In addition to appearing on the site weekly, you can also choose to receive 6-Banner Sunday by email. An email subscription form is available at the bottom of this week's 6-Banner Sunday.
Welcome to another edition of 6-Banner Sunday, a joint production between The Assembly Call and Inside the Hall, where we highlight the five most essential IU basketball stories from the past week, as well as how other IU sports programs are doing.
It has been a tough week for Hoosier fans as IU was close to ending a 23-year consecutive losing streak at Madison against Wisconsin. However, they lost a 22-point lead and fell to the Badgers once again. The Hoosiers face Merrimack on Sunday. Off the field, Assembly Call and Inside The Hall had their normal broadcasts, IU coach Mike Woodson had his radio show, and several former Hoosiers now play professional basketball. We will end as always with an overview of the performance of other IU sports.
• IU falls in Wisconsin after building a big lead
• Hoosiers welcomes Merrimack today
• Podcast on the Brink and AC Radio
• Radio show by Mike Woodson
• Former Hoosiers in the pros
• Hoosier roundup
Banner # 1 – IU Falls In Wisconsin After Building A Big Lead
In one of the most frustrating losses IU has suffered recently, the Hoosiers took a 22-point lead over the Badgers with a fantastic first half. However, while IU was good in the first 20 minutes, they were just as bad in the last 20. They scored just 17 points in the second half and lost 64-59 as their record fell to 7-2.
After the match, Woodson spoke, Inside The Hall had a photo gallery, Ryan Corazza wrote his Minute After and Film Session, Grace Ybarra wrote Five Takeaways, while Tyler Tachman wrote a column on the Hoosiers' inconsistency in matches.
Banner # 2 – Hoosiers Welcomes Merrimack Today
The good news for IU is that after the heartbreaking loss to Wisconsin they get a tune-up game against a struggling Merrimack team today at Assembly Hall at noon on BTN.
Jordan Geronimo and Michael Durr spoke with media about the contest, while Alex Bozich wrote on What to expect from the game today. The Warriors come from the Northeastern Conference in the Boston area and are just 4-7 this year with four straight losses. They are ranked 258 in the KenPom ranking and 269 in the NET ranking.
Banner # 3 – Collapsing Podcast and AC Radio
It has been a very busy week for Inside The Hall and Assembly Call. ITH's On The Brink podcast discussed the loss in Wisconsin with Tyler Tachman.
Meanwhile, Assembly Call has had a huge week in terms of shows with the Wisconsin post-game show AC Radio, new episodes of Tamar Bates and Grace Berger shows, as well as the premiere of a series of live women's post-match shows (titled Doing The Work).
Banner # 4 – Mike Woodson's Radio Show
Assembly Call and Inside The Hall weren't the only ones putting on shows this week. As usual, Mike Woodson did his weekly radio show Monday.
Woodson discussed the loss of Syracuse and detailed the upcoming games.
Banner # 5 – Former Hoosiers among the pros
While the current UI squad is off to a good start, there are plenty of former Hoosiers who play pro basketball as well. Cody Zeller, Eric Gordon and Romeo Langford played in the NBA this week, while Juwan Morgan played in the G-League.
Meanwhile, several other Hoosiers compete abroad with Robert Johnson, Jordan Hulls, Yogi Ferrell, Josh Newkirk, James Blackmon Jr., Devonte Green and Freddie McSwain Jr.
Additionally, Thomas Bryant, OG Anunoby and Victor Oladipo are on NBA teams but are currently injured. Anunoby had a very good start to the year before his illness, while Bryant and Oladipo have not been in good health since the start of the season.
Twitter account Pro Ball Socks can be used to track the progress of UI players in their professional careers.
Banner # 6 – Hoosier Roundup
• Football has had a lot more off-season changes and announcements this week. First, the Hoosiers appointed a new offensive coordinator in Walt Bell.
• In terms of player movement, they collected several coins in the transfer portal, including defensive players Bradley Jennings Jr., Patrick Lucas Jr., and LeDarrius Cox as well as offensive players Emery simmons and Shaun Shivers. However, two of their best players have announced that they are leaving as Michael Penix Jr. entering the transfer portal and Michael McFadden declaring for the NFL Draft. However, UI secondary continues to be strengthened as both Devon Matthewsand Jaylin williams announced that they would forgo the project and the transfer portal and return to the Hoosiers. Additionally, IU lost a prominent rookie to quarterback Josh Hoover who toppled his college pick of UI at TCU.
• The No. 10 women's basketball had a strong performance this week, beating Penn State and Fairfield. They have a huge game against a ranked Ohio State team tonight on BTN. In addition, a few of their star players have been nominated for the CLASS award.
• Athletics has opened its season.
• Wrestling participated in the Cleveland State Open.
• For men's soccer, several players received playoff awards and several were invited to the MLS College showcase.
• Women's soccer has had an academically honored athlete.
• Swimming and diving saw their coaches rewarded as well as an athlete.
Thank you for your continued support to The Assembly Call and Inside the Hall. We will be back next weekend with a new roundup.
Now go have fun on a Sunday at 6 banners.
Aaron (Ari) Shifron
Contributor to the assembly call
Filed at: